Go Vegan With McDonald's McPlant
McDonald's recently introduced us to the plant-based burger- 'McPlant'. A vegan burger launched by McDonald's, made with a juicy plant-based patty in collaboration with Beyond Meat featuring vegan sandwich sauce, ketchup, onion, mustard, pickles, Roma tomato slices, lettuce, and a vegan alternative to cheese in a sesame seed bun. It was launched as a part of the permanent menu at McDonald's in the Netherlands.
Also check this from the food section- Garlic Green Beans- perfectly healthy recipe – My Biology Dictionary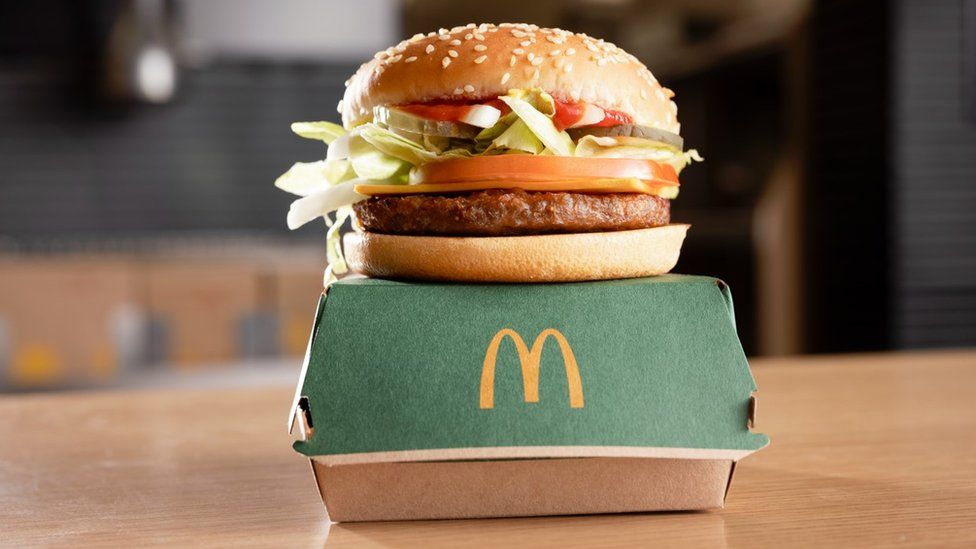 Where was McDonald's vegan burger initiated?
The vegan burger was initiated by McDonald's in partnership with plant-based meat company Beyond Meat. Debuted in 2020, the McPlant has been expanding across international markets, including Sweden, Denmark, Austria, the UK, and Ireland. Mc Donalds launched its first trial on 10 selected restaurants in Coventry on 29 September. After three-year research and development in collaboration with Beyond Meat, Mcdonald's has come up with a vegan alternative.
Ingredients used in the vegan burger
McDonald's Aware of the Market
Mc Donalds has constantly been aware of customers' demand for vegan food options from country to country. The meatless or vegan fast food options are more promising and way ahead of regular plant-based diets.  It is gaining abrupt public interest. Being already aware of the market and customer demand is very important as new marketing rivals arise from time to time. Burker king, one of McDonald's rivals has evolved well beyond just plant-based burgers to providing a vegan menu in many countries. It has also come up with other meat-less menu ideas in other countries.
McDonald's has however been slow in bringing its vegan alternatives to market. This is because Burger King had already launched its 100% plant-based Chicken Royale and Whopper. Other burger chains have also launched meatless Whoppers and are looking forward to making their products 100% vegan.
How it was and how it is!
McDonald's was never a vegan before. Its fries are not even vegan as they are cooked in beef fat, but the tables are turning now. This is because the trends have shifted to plant-based meat by retailers from various countries. The animal agriculture industry is the primary producer of many daily life products and fast food but it also contributes to greenhouse gases and also makes concerns about sustainability. Nonetheless, plant-based meat will be the future of meat. It will be a promising alternative to depleting animal resources in the future. Let us wait for McPlant's huge success story!
We are always looking for different ways to innovate and meet our customer's needs, and with McPlant, we have a delicious plant-based burger that will appeal to everyone. Whether you're vegan or just fancy a plant-based patty, we're confident you will enjoy the McPlant –chief marketing officer at McDonald's in the United Kingdom and Ireland, Michelle Graham-Clare said in a statement.
Nutritional Composition of McPlant
The major component of the McDonald's burger, the patty features a proprietary meat-alternative burger patty that was co-developed with Beyond Meat. It mainly comprises pea-protein and rice-protein and is cooked on a griddle.
| Nutritional Information | per portion | % daily value for an adult |
| --- | --- | --- |
| | | 21% daily value |
| | | 21% daily value |
| | | 29% daily value |
| | | 33% daily value |
| | | 16% daily value |
| | | 12% daily value |
| | | |
| | | 37% daily value |
| | | 37% daily value |
McPlant Vegan Burger Trials
Trials in the United Kingdom
McDonald's tested its McPlant for the first time in the United Kingdom in October. It was expanded to be tested in Texas and California in February 2022. It has, however, driven decisions to take access to around 1300 restaurants in the United Kingdom.
Trials in the United States
The analysts suggest that the US trials of McPlant vegan burgers were not very successful despite optimistic predictions. This is the reason why McDonald's has not taken any formal decision on extending this meatless offering nationally.
Jotting down some points on why the US trials have not been very successful in the US, we come to know that it was because the trial locations were in smaller towns, where plant-based products are not as popular as in urban cities.
Do you think McPlant is 100% Vegan?
Beyond meat signed a three-year bond with McDonald's to develop McPlant exclusively for McDonald's. It became McDonald's preferred plant-based burger supplier in 2021. Accredited by the Vegetarian Society McPlant, the vegan burger will be 100% vegan and features plant-based and non-dairy products. The regular cheese slices used in the burger have been replaced with cheese made from pea protein, with no compromise. It contains vegan sauce as an alternative to egg-based mayonnaise. It will also be cooked on a separate grill and using dedicated utensils to avoid cross-contamination with animal-based products and ingredients.
We all know McDonald's is a public craze, especially among youngsters. The trails of McPlant Vegan burgers across 10 Conventry locations come ahead of McDonald's idea of expanding this offering to 250 more countries. It is heading forward to sell McPlant nationwide in the United Kingdom and Ireland. Mc Donald's being aware of public interest will be launching it soon worldwide. Despite the controversies, Beyond Meat is still working with McDonald's on the McPlant platform, which, in addition to the burger, can result in other plant-based offerings in markets worldwide.
When we talk about McPlant reaching Indian restaurants, there has been no formal news regarding that by the officials. Despite the fact that India has a more vegan population McDonald's vegan burger McPlant has not been introduced in Indian restaurants yet. McDonald's has just started rolling out the new product into the markets of the United Kingdom (UK) but we look forward to its launch in India. Fingers crossed but it might be a great sell in India due to a large number of vegan target customers.
Keep reading
Team MBD
Check out McPlant here- McPlant – Nutrition & Ingredients (mcdonalds.com)