Pantoprazole- Uses, Dosage and Side Effects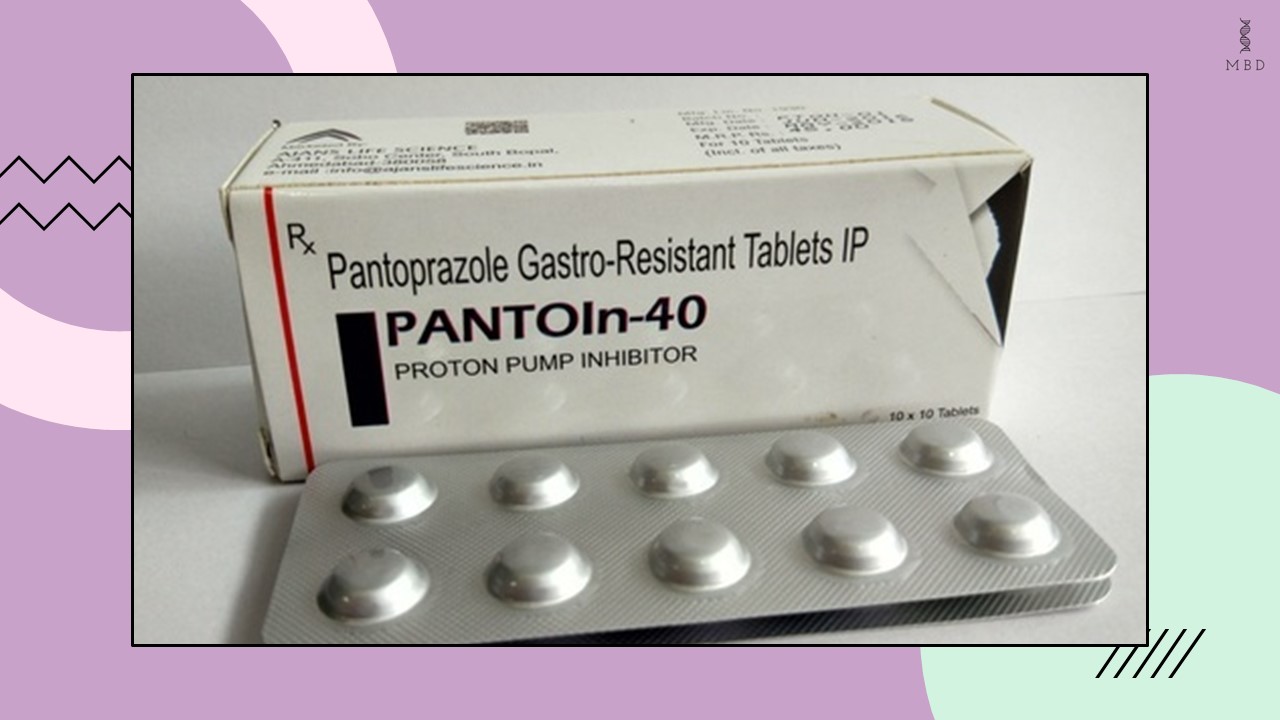 With the increasing self-medication, access to the mode of action, dosage and side effects of medicines has become the need of the hour. Proton pump inhibitors like pantoprazole reduce the quantity of stomach acid production. For adults and kids who are at least 5 years old, pantoprazole is used to treat erosive esophagitis (damage to the oesophagus by stomach acid caused by gastroesophageal reflux disease, or GERD). Let's find out about it in detail.
Generic name: Pantoprazole (oral/injection)
Drug class: Proton pump inhibitors
Additionally, Zollinger-Ellison syndrome and other disorders caused by too much stomach acid are treated with pantoprazole. The available form of this drug is a tablet. All varieties of pantoprazole can be obtained with a prescription. For acid reflux or heartburn, pharmacies also sell lower-strength 20mg tablets.
Discovery
To begin with, scientists at Byk Gulden, an Altana subsidiary, discovered pantoprazole; the drug development effort began in 1980, and pantoprazole was produced in 1985. In 1994, Germany saw its first marketing of it. 130 Wyeth obtained the US patent from Altana through a license, and in 2000 the US FDA granted Protonix marketing authorization.
Mode of action: Pantoprazole
This drug works by preventing the creation of stomach acid at its most advanced stage. Pantoprazole covalently binds to the H+/K+ ATP pump in the stomach's gastric parietal cell to prevent the release of gastric acid and basal acid. For up to 24 hours and longer, the covalent binding stops acid output.
The cytochrome P450 system in the liver particularly breaks down pantoprazole. Demethylation via CYP2C19 and subsequent sulfation make up the majority of metabolism. The oxidation process is carried out by CYP3A4. There is no consensus regarding the pharmacological importance of pantoprazole metabolites. Because it is inactive in the acidic environment of the stomach, it is typically administered along with a prokinetic medication. To stop the secretion of acid, pantoprazole binds permanently to proton pumps called H+K+ATPase. Before acid production can resume, new pumps must be built due to the irreversible binding of the pumps. The medication's plasma half-life is two hours or such. Moreover, the medicine takes 2 to 3 hours after delivery to reach its peak plasma concentrations. 98 per cent of the medication is firmly anchored to proteins.
This drug looks to be safe for use in veterinary medicine with a number of species of large animals. A number of veterinary species, including calves, alpacas, and foals—whose half-lives were reported to be 2.81, 0.47, and 1.43 hours, respectively—have been used to study the pharmacokinetics of pantoprazole. Goats have an elimination half-life of less than an hour, suggesting that pantoprazole is removed more quickly in goats than in calves.
Read more over here- Medicine & Pharma Archives – My Biology Dictionary
Precaution
If you previously experienced breathing issues, renal issues, or a severe allergic response after using pantoprazole, or if you have an allergy to pantoprazole or medications similar to it, you should not use this medication (lansoprazole, omeprazole, Nexium, Prevacid, Prilosec, and others).
Inform your doctor if you've ever experienced any of the following:
low blood levels of magnesium;
lupus;
osteoporosis or low bone mineral density.
If you use pantoprazole frequently or for a prolonged period of time, your risk of breaking a bone may increase. If you're an adult over 50, talk to your doctor about ways to maintain strong bones.
Whether this medication will harm an unborn child is particularly unknown. Using this medication while nursing is not advised. Anyone under the age of five is not permitted to take pantoprazole.
Dosage and strength
Pantoprazole (20 mg or 40 mg) is the dosage per pill.
Pharmacy stores sell pantoprazole 20 mg pills. These are appropriate for the short-term management of adult heartburn and acid reflux.
The recommended dosage for treating heartburn and acid reflux is 20 mg per day. Nextly, for treating gastro-oesophageal reflux disease is 20 mg to 40 mg per day. Moreover, for treating stomach ulcers is 20 mg to 40 mg per day.
In general, doses are reduced for those with liver issues.
How to take
Preferably, this drug should be taken an hour before a meal. Tablets should be consumed whole together with water.
Side effects of pantoprazole
Following are the common pantoprazole side effects:
headache, dizziness
stomach pain, gas, nausea, vomiting, diarrhoea
joint pain
fever, rash, or cold symptoms (common in children).
Other side effects
Kidney problems – fever, rash, nausea, loss of appetite, joint pain, urinating less than usual, blood in your urine, weight gain;
Bruising or swelling where intravenous pantoprazole was administered;
Kidney problems (fever, rash, nausea, loss of appetite, joint pain, urinating less frequently than usual, blood in your urine, weight gain);
Low magnesium (dizziness, rapid or irregular heartbeat, tremors (shaking, jerking muscle movements), feeling jittery; muscle cramps, muscle spasms in your hands and feet; coughing or choking feeling
To summarize, next time, you do self medication, think twice. Although this drug has the ability to reduce the quantity of stomach acid production, it has significantly high side effects as well.
Thank you for reading
Team MBD